On January 26, 2020, Woodlawn held the first STEAMfest celebration. Hundreds of youth and families of all ages were welcomed by Woodlawn School for one of the largest community wide events held on Woodlawn's campus.
Due to health and safety concerns in 2021, STEAMfest was reimagined. In an effort to continue the momentum of STEAMfest 2020, Woodlawn's STEAMteam created a virtual event. STEAMfest 2021 extended past the local community and went global with thousands of youth and families from around the world participating in over 100 online activities.
But, this was not the beginning of STEAM at Woodlawn.
It all started in 2013, when a group of Woodlawn parents met to explore ways to enhance the STEAM opportunities at Woodlawn. First, the Woodlawn Robotics and Engineering Club (WREC) was founded. Students, supported by parent volunteers, assembled to … you guessed it … build robots!  
In 2015, the "Wow! STEAM" after school program was established. Each week, students in grades K-5th, explored hands-on activities and presentations about a STEAM topic. Guest volunteers from the local community and Woodlawn parents introduced new topics in STEAM and the students explored the topics by doing hands-on activities. They were inspired to explore various topics in STEAM through numerous engaging activities such as building rockets and transistor radios, learning about combustible and non-combustible engines, studying the 5 senses with models and dissection samples, exploring neurons and recording neuro-activity, learning how pulse oximeters and X-rays work, and petting reptiles while learning about them and their habitats.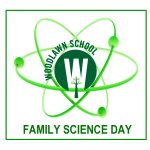 In March of 2016, Woodlawn held its first "Family Science Day" event. Students and their families spent the afternoon exploring a number of hands-on STEAM activities.  The event was dubbed "STEAM WARS" with a STAR WARS theme.
The next year the second "Family Science Day" continued the "STEAM WARS" theme, but grew to include additional booths sponsored by colleges, libraries, museums, and other organizations from the community.
Building on past success and the vision of new leadership at Woodlawn, planning for STEAMfest 2020 started in the fall of 2019. This event opened to the public and lasted an entire afternoon. Over 200 families, 400 attendees, visited Woodlawn's campus to Imagine, Discover, and Explore over 50 STEAM-related booths sponsored by dozens of organizations.
On January 30, 2021, STEAMfest's virtual event continued 2020's success with its 3-week global outreach accessed by nearly 50 countries and almost 7000 visitors! With over 100 activities and live streams, the event's website served roughly 100,000 pages to "mySTEAMfest Explorers".
With 774 pre-registered guests and a conservative estimate of over 800 in attendance, Woodlawn's STEAMfest 2022 event reached new heights on April 3, 2022!  The 60+ activity booths presented by Woodlawn, other area schools, universities and colleges, libraries, and other businesses and organizations within our community, the addition of food trucks, and Woodlawn's beautiful 61 acre campus offered something for everyone. Smiles were had by all!
The fun continued throughout 2022! STEAMfest has been a part of several community outreach events including the Davidson Farmer Market, Davidson College's Innovation Week Block Party, and Davidson Land Conversancy's NatureFest.
Woodlawn's STEAMfest 2023 event planning is currently underway. We are anticipating over 100 activity booths, some new additions to the event, and expect to break last years attendance levels. Please join us on March 26, 2023 as we continue to Imagine, Discover, and Explore! 
Family Science Day 2017 Gallery
Family Science Day 2016 Gallery