On January 26, 2020, Woodlawn held the first STEAMfest celebration.  But this was not the beginning of STEAM at Woodlawn.
It all stared in 2013 when a group of Woodlawn parents met to explore ways to enhance the STEAM opportunities at Woodlawn.  First, the Woodlawn Robotics and Engineering Club (WREC) was founded by students and supported by parents to … you guessed it … build robots!  
Then in 2015, the "Wow! STEAM" after school program was established.  Each week students explored hands on activities or presentations about a STEAM topic.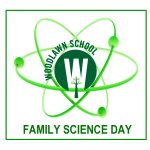 In March of 2016, Woodlawn held its first "Family Science Day" event.  Students and their families spent the afternoon exploring a number of hands-on STEAM activities.  The event was dubbed "STEAM WARS" with a STAR WARS theme.
The next year the second "Family Science Day" continued the "STEAM WARS" theme, but grew to include additional booths sponsored by colleges, libraries, museums, and other organizations from the community.
Building on past success and the vision of new leadership at Woodlawn, planning for STEAMfest 2020 started in the fall of 2019.  This event opened to the public and lasted an entire day.  Over 200 families, 400 attendees, visited Woodlawn's campus to Imagine, Discover, and Explore over 50 STEAM-related booths sponsored by dozens of organizations.