There's more then one way to measure tree height. This video shows two other methods:
So now we've seen three methods. All three work on the same principle of projecting the height of the tree onto the ground and then measuring the distance on the ground. This diagram might help understand: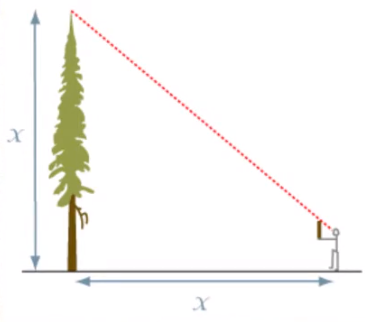 Notice that the height of the tree (X) and distance on the ground (also X) are the same.
Ok now let's do some math! Watch the following video to see the problem solved with trigonometry.
Now it's your turn
Choose a method
Go outside
Find a tree (or a tall building if there are not trees)
Measure the tree
Tell us about it in your journal.
How tall was the tree? If possible please include a picture of the tree.
Which method did you use for the measurement?
Can you think of other ways to measure the height of a tree?
Earn badges and qualify for prize drawing by registering and answering journal questions. It's fun and easy!