This event live streamed at 9AM ET on February 5th, 2021, but you can still watch the recording at the link below and answer the journal questions.
The slides from this presentation are available here:
Labiano_STEAM
This event was live streamed on YouTube. Here's the recording:
This event is a rare opportunity to meet in person a real scientist working on the most advanced space telescope ever built. This exclusive live steam event is sponsored by Woodlawn School.  The event has been organized by Dr. Gerardo Vázquez, Woodlawn Middle School Algebra Teacher.  Special thanks go to Dr. Alvaro Labiano for giving the presentation.
In preparation you can:
Watch the video above for an introduction to the James Webb Space Telescope.
Visit the NASA JWST website at https://www.jwst.nasa.gov/ for more information, videos and pictures.
Learn more about Dr. Alvaro Labiano below.
After the presentation return to this page and add to your journal using the questions below.
What makes the JWST different or special compared to past space telescopes?
What does an "instrument scientist" do?
Why is it difficult to build a telescope in space?
Earn badges and qualify for prize drawing by registering and answering journal questions. It's fun and easy!
Dr. Alvaro Labiano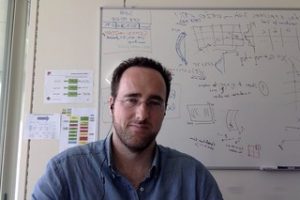 During my entire professional career, I have combined a deep involvement on the development of space instrumentation with high impact scientific research. Since 2018, I am a Senior Research Associate, under the Atracción de Talento (Modalidad 1 – Doctores con Experiencia) program, at the Centro de Astrobiología (CAB) in Madrid. I am the instrument scientist of the NASA­ ESA James Webb Space Telescope (JWST) MIRI/MRS instrument, I lead and coordinate a team of 30 scientists and engineers involving 15 institutions and space agencies from Europe and the USA. My tasks include supervising and defining instrument operations­, scientific calibration, final commissioning and on-orbit verification of the MIRI/MRS instrument ,and liaising with the operation and scientific teams of the JWST, NASA and ESA representatives.
In parallel, I am an internationally renowned expert on Active Galactic Nuclei (AGN) and their interaction (and feedback) with the Interstellar and Intergalactic Media. I frequently give talks in scientific conferences (many invited) and have organized several international workshops and meetings as Scientific and Local organizing committees. I am a frequent referee in prestigious, high impact astronomical journals such as ApJ, A&A or MNRAS. I have led (PI and Co­PI) and participated in many international projects involving European, USA, and Swiss institutions and space agencies, as well as National projects. I have been granted the prestigious ESA Fellowship for independent postdoctoral research, and the "Atracción de Talento Investigador – Doctores con Experiencia", from the Comunidad de Madrid to create and lead research groups.
I started my research in Astrophysics as an undergraduate student at the Universidad Autonoma de Madrid, where I obtained the MSc in 2001. I was then awarded the prestigious Space Telescope Science Institute (STScI) Graduate Research Assistantship (NASA) and the Ubbo Emmius PhD Scholarship (The Netherlands), to carry out my thesis research in a joint program between USA and The Netherlands. I obtained my PhD from the University of Groningen in 2006. I have broad experience at top level research and instrumentation institutions, both national and international, including: CSIC and INTA (7 years), the Swiss Institute of Technology (ETH, 2.5 years), STScI (USA, 2.5 years), Groningen University (The Netherlands), Harvard (USA) and the European Space Agency (2 years).
Overall, my CV shows that I have broad experience in development of space instrumentation, independent scientific research, as well as leading international scientific and technical collaborations. My scientific research is quoted as a sound reference in the area of young AGN. I am frequently invited to give presentations in international scientific and instrumentation conferences. I have been granted observing time in many competitive-selection ground and space telescopes, as well as financing for several of our projects and proposals. I am also an expert in knowledge transfer within academia and the private sector, both nationally and internationally. I am a member of tens of international research projects as well as the scientific exploitation of JWST, ALMA and other large competitive astronomical facilities.