This activity requires adult supervision. Be careful with model rockets and wear appropriate safety gear.
The video demonstrates how to measure thrust in a model rocket motor.  If you have access to model rocket motors and sufficient adult supervision, then you are invited to recreate the experiment described in the video.  If not, then that's ok.  There's still much to explore and learn in this activity.
Watch the video above.
We need your help!  In the video, an "old bean can" was used as the test stand.  Can you help design a better test stand for this experiment.  You can draw a picture, build with Lego's, or other method.
Learn about model rockets below.
Design a new "test stand" to replace the "old can of beans"?  Describe your solution or share a picture.
How was a cell phone used to collect data for this experiment?  Are there other ways that cell phones can be used to collect and measure data?
Have you built and launched model rockets?  Tell us about this experience.
Earn badges and qualify for prize drawing by registering and answering journal questions. It's fun and easy!
Rocket Motor Size
In the experiment above, an A8-3 motor is used.  You can see where this size motor fits among the various types of motors: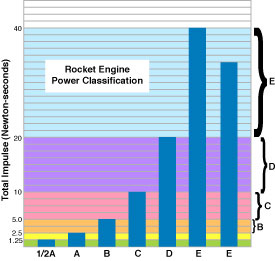 For comparison, here's the Saturn V rocket that was used to send astronauts to the moon: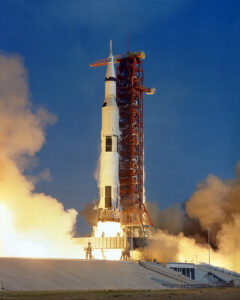 The first stage of the Saturn V had a thrust of 34,000,000 N!  How does this compare to the model rocket motors?
Model Rocket Motor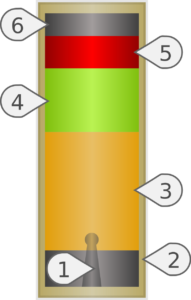 Here is what's inside a model rocket motor.  As you can see in the picture, the motor contains:
Nozzle
Case
Propellant
Delay charge
Ejection charge
End cap
Model Rocketry
Interested in learning how you could build and launch your own model rocket?  Check out this playlist from New Mexico Rocketry Reviews.  It includes 4 videos that will show you all the basics.