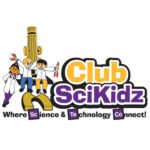 Club SciKidz Charlotte North
Club SciKidz conducts STEM/STEAM based Summer Camps, Enrichment Programs, and in-school activities for children ages 5 - 15.
Club SciKidz programs are carefully designed inquiry-based lessons that involve children with hands-on activities. We strive to capture children's natural curiosity, stimulate their interest in science, and teach them important science topics along with critical thinking skills. The children enjoy these activities and truly learn from them. We are the number one Science SUmmer Camp program in Atlanta, Dallas, Houston, and Maryland.