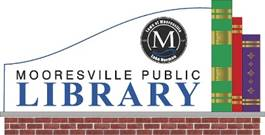 Our History
The Mooresville Public Library was started around 1890 by a group of citizens who donated their own books to create the Mooresville Lending Library. Books were stamped in the front with the cost to rent the book for a day. The library was housed in various locations around town because no permanent home was made available.
Locations
By 1899, the Town of Mooresville added the library as a department of the town and began paying the librarian. The name was changed to the Mooresville Free Library and was given a room in the new municipal building by 1919. Throughout the 1920s, the library was shown little interest except by children who wanted new books. The library continued to move to various locations – with the longest stay at the Town Hall building on Broad Street.
In 1939, Mrs. Lutell Sherrill Williams learned that the library was occupying her family home, which had been vacant since she and her family had moved to Winston-Salem. Irritated that the library was in such an "unfitting" place, Mrs. Williams razed her family home (where the original library now stands) and started construction on a new building on the footprint of the original house.
Funding
With monies from R.J. Reynolds and Mrs. Williams, Barger Brothers Construction of Mooresville was contracted to undertake this important task. On December 12, 1940, the new library opened to a crowd of 600 people, was deeded to the town, and incorporated with a Library Board consisting of community leaders.
Expansion
In 1963-64, the original building of the library was expanded to meet the growing needs. With help from the Town of Mooresville, a 900-square-foot addition was added to the back of the building to house the new children's section of the library. The first addition since 1939, the children's room gave the children a room to call their own.
In 2005, the library broke ground for its second expansion to meet the growing needs of the community. With the help of the community, Town of Mooresville and other supporters, the library added 30,000 square feet of space, which incorporated the design of the original building. The expanded library opened in May of 2006. The library continues today to fulfill its 100-year charge to bring knowledge to the community.