Use chemistry to marble paper!
When paper is marbled, artists use the hydrophilic and hydrophobic properties of food dye, water, and paper in order to create beautiful designs.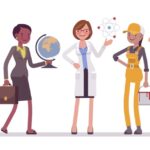 Girls in STEM - Davidson College
Girls in STEM is working to close the gender gap in STEM fields
We are a group of students from Davidson College who love science and want to see the gender gap in STEM fields close! We volunteer with local 4th and 5th grade girls in order to spread the joy of science.