We will demo the properties of very cold substances.
We will demonstrate how Dry Ice Sublimates and creates amazing effects. We will also demonstrate Freezing Point Suppression where participants can try their hand at making ice cream and sample the results.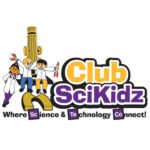 Club SciKidz Charlotte North
We provide STEM/STEAM programs for PK - 8th grade.
Club SciKidz specializes in providing AMAZING Summer Camp experiences. We also conduct After School Enrichment Programs, In-School Presentations and shows, & Field Trips Without the Bus. All of our programs meet grade level academic requirements.