UV protection and your skin
learn about the importance of UV protection, ways of protecting your skin, and see a demo of sunscreen in action
I will bring several informational handouts and visual aids to show why UV protection is important and some clothing/hats/sunscreen for demo. I will apply different levels of sunscreen SPF to a clear plexiglass and then shine a UV flashlight on them, with a UV meter behind them, to see a demo of how well different sunscreens work.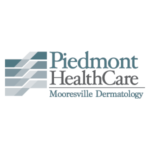 Piedmont Healthcare Mooresville Dermatology Center/Eterna Aesthetics
Full service medical, surgical, and cosmetic dermatology care for the whole family.
As one of the oldest and most highly rated dermatology practices in the LKN area, Piedmont Healthcare's Mooresville Dermatology Center and Eterna Aesthetics offer a the highest quality, up-to-date skin care for your whole family. From skin cancer screenings to rashes, to acne, we have 7 providers who love taking care of your skin!