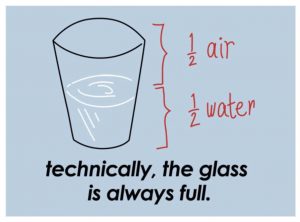 Is the glass half empty or half full? Technically, the glass is always full! Air is matter, and it takes up space!
Here is a quick and easy experiment to see that although not always visible to the eye, air does take up space!
Materials:
Paper towel
Tall drinking glass
Container of water (the container must be taller than the glass)
Instructions:
Crumble up the piece of paper towel and place into the glass. (Securely push down so the paper towel is at the bottom of the glass so that it doesn't fall out when turned upside down).
Quickly submerge the entire glass upside down into the container of water, and then immediately take out the glass and turn it back over (right-side up).
Take the paper towel out.  Is it dry?
The answer should be Yes!…Why? Because air takes up space!
In this experiment, the glass was already filled up with air, so when it was placed upside down in water, the water could not fill into the glass. The air in the glass creates pressure, and that pressure was greater than the water pressure trying to get in! Air MATTERS!