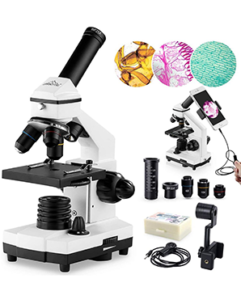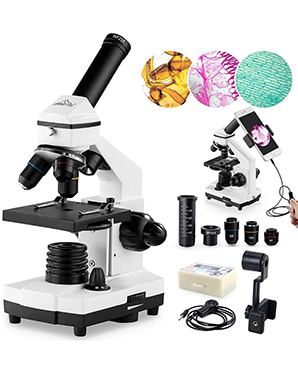 On January 30, Woodlawn School's STEAMfest 2021 opened its doors, well virtual doors, to youth K through 12th grade students and their families to Imagine, Discover, and Explore activities in Science, Technology, Engineering, Arts, and Mathematics.  All were invited to register for an opportunity to win a High-Powered Microscope with slides set, phone adapter, and accessories.
And!  Drum roll!  Anticipation mounting!  We have a Winner!
We are pleased to announce the winner is: 
Daniel of Cornelius, NC
Daniel, a 6th grader at the Community School of Davidson, was randomly selected from those that completed the registration to become a STEAMfest Explorer.  When contacted by the STEAMteam, his mother Diane had this to say:
"It is super cool that he won.  Daniel has never won anything like this!  He just said… are you sure they picked me?  We are so excited and grateful!  Thank-you thank-you!"
Diane also mentioned, "He loves all things space and NASA, is a member of the boy scouts and takes coding/robotics classes.  He is a curious sweet loving kind guy who is a great friend and has a passion for science.  STEAMfest will give him opportunities to grow!  We are thankful to everyone involved that make STEAMfest happen."
You are welcome Daniel!  Thank you for registering as a STEAMfest Explorer.  We hope you enjoy the activities offered through the STEAMfest website.  We hope you will share your experiences with others and invite them to be STEAMfest Explorers too!  They could win one of the Daily or Weekly prizes offered between now and February 20, 2021.