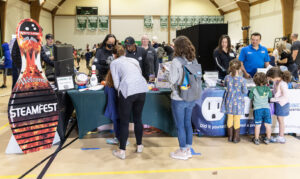 Woodlawn School once again opened it's campus and invited the local community in for a day of celebrating Science, Technology, Engineering, Arts, and Mathematics.  The STEAMfest Live event was held on Sunday, April 3rd, from 1pm to 5pm.  There were 219 people that pre-registered their families for the event for a total of 774 pre-registered guests.  The complete roll call is still being tallied, but with volunteers, booth sponsors, and Woodlawn teachers and staff, as well as walk-ins, it's estimated over 800 people playfully learned on Woodlawn's campus on Sunday.
This was the third successful STEAMfest event for Woodlawn School, but only the second in person event.  Last year's in person event, STEAMfest 2021, was cancelled due to the pandemic, but that didn't stop Woodlawn from having STEAMfest.  The STEAMteam simply went Virtual, creating a catalog of STEAM activities for "MySTEAMfest Explorers" to do at home.  The catalog of activities and live streams are still accessible today on wsteamfest.org and include instructional videos, how to directions, and needed supply lists for families to recreate hours of STEAM activities.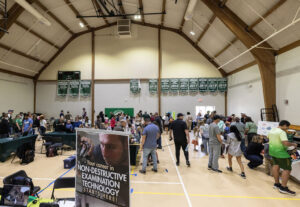 A member of the STEAMteam was excited to meet a local family of Virtual MySTEAMfest Explorers that came out to enjoy the Live event for the first time.  The family from Huntersville, NC emerged from Woodlawn's Barn after visiting roughly 25 booths created by local universities, colleges, museums, libraries, and other organizations.  They approached the History of STEAMfest booth to ask where they should go next.  One parent headed to Wood's Hall with their older child as she was excited upon hearing there was a Learn to Crochet booth, created by a Woodlawn Upper School math teacher, while the other parent headed to Woodlawn's garden and playground area with their two younger children to make Fairy Houses, Learn to Compost, and do other activities with Woodlawn's team of Lower School teachers.  As they were leaving, they held up some of the many STEAM inspired arts and crafts they had engineered for the STEAMteam and Woodlawn representatives to admire.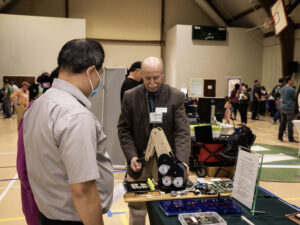 In swapping stories with a veteran of STEAMfest, at the CPCC Engineering Technology's "Engineering the Future" booth, Woodlawn and the STEAMteam heard a story that truly touched their hearts.  The booth's creator dates back to when Woodlawn hosted Family Science Day and Woodlawn parents created the STEAM WARS events for Woodlawn students and their teachers to enjoy.  A former Woodlawn student shared with the booth creator that his activity booth (formerly called "Learning Pods" in 2016-2017) had inspired him to become an engineer.  That same Woodlawn student also manned his own booth and shared his Woodlawn Senior Capstone Project at STEAMfest 2020.  The Engineering Professor from CPCC stated "that's why I do things like STEAMfest.  It is to inspire others."  And inspire he has with engineering activities such as a robotic arm that challenges students to a game of tic-tac-toe.
The STEAMteam is looking forward to posting pictures, videos, and more stories in the weeks to come.  They and Woodlawn are looking forward to next year's event. But wow, what an exciting spectacular day we had!!!
Photos by zookphoto.com.